MMORPGs lead the charge when it comes to online gaming. There are plenty of genres flooding the MMO market nowadays though and racing games is one of them. There is obviously an immense desire to play racing games online, otherwise these titles wouldn't survive. Some online games make players spend money to improve their own character significantly. MMO ATK knows what free-to-play means to gamers though, which is why we compiled ten of the best MMO racing games that you can experience for free.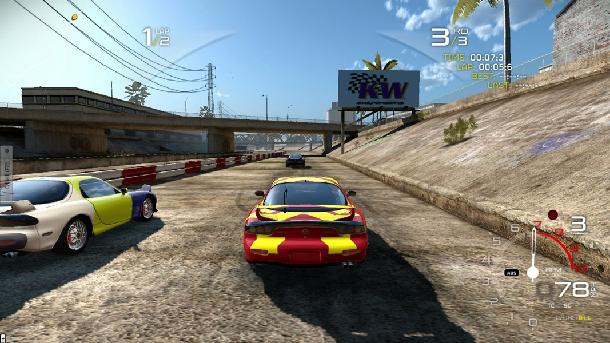 Auto Club Revolution kicks off the list, bringing along a great selection of licensed cars, racetracks, and multiplayer modes. All you need is a quick registration and download and you?ll be on your way to racing glory. There are single player time attack options if you choose but this is an MMO racing game so you will probably be enjoying the large scale elimination modes and weekly leader boards. Auto Club Revolution is compatible with many USB controllers including steering wheels and xbox controllers. Multiplayer components are great in this MMORG; providing private matches, a wonderful lobby system, sharing capabilities, and both voice and text chat that blends perfectly when customizing vehicles. The free version of this game is limited which is why Auto Club Revolution falls short compared to other racing options on this list. Leveling your cars can take a while if you don?t want to pay for improvements with micro-transactions. Plenty of racing fans will find enjoyment in the solid graphics and Gran Turismo like handling though, which makes this an MMO title worth looking at.
[play-now=http://autoclubrevolution.com/en]Play Auto Club Revolution[/play-now]
The Freejack community is just barely hanging on, so check out this free title while you still can because it?s one of a kind. Unlike other online racing games, Freejack focuses on foot races rather than using vehicles. Although it?s not as fast as some of the car based racing MMOs, this game provides a great experience where players will use Parkour skills to gain a competitive edge on their opponents. The better you perform your jumps, flips, and tricks in given opportunities, the faster your character will reach the finish line. There are multiple versus modes even including a later added Hell Mode. It seems many video games nowadays are providing zombie scenarios and that clearly includes racing, a genre that encourages running away on foot. Tournaments and online leader boards have been provided for gamers to motivate their play, and cool gear tailored toward the game environment provide some decent character customization. With minigames like Jack and the Beanstalk to supplement standard racing, FreeJack turns out to be a worthwhile MMORG that really deserves a bigger fan base.
[play-now=http://freejack.gamerkraft.com/]Play FreeJack[/play-now]
Like other racing games on this list, Victory: The Age of Racing is easy to learn but hard to master because of its realistic driving physics. This game boasts one of the best control compatibilities on the market, allowing for the use of a mouse, keyboard, or steering wheel. Unlike other formula racing games, this MMO isn?t a modern title. Retro style cars placed into a futuristic setting gives the game great appeal when it comes to customizability. The custom changes you make to your vehicle?s performance will be more important than anything else. It goes without saying that a race is about being fast. Well this is a very fast game. Competitions are quick and help players improve their vehicles with each successful performance. This is simply another great MMORG if you?re a player that likes formula racing.
[play-now=http://victorythegame.com/landing/en]Play Victory: The Age of Racing[/play-now]
MMO racing games shut down and reboot so often that it?s becoming a trend in the genre. TalesRunner joined that list in 2011 when North American servers were shut down. Lucky for racing fans, other companies are always willing to support and revitalize the communities of once popular gaming projects. TalesRunner released their global servers in 2012, making the game currently available for through beta testing. The game goes on temporary hiatus but will be fully released within the next few months.This is another unique racing title that takes place on foot, this time in a world based on eastern and western fairytale settings. Race courses are incredibly detailed and there are plenty of items and gameplay experiences to put this title over the top. Use alchemy to upgrade your equipment or maintain a farm to grow your own items. Pets, guilds, families and marrage give this racing game a fantastic RPG twist. Use one of fourteen customizable characters to form a guild and get started on various game achievements in this free game download right away.
[play-now=http://tr.nowcom.net/Download/Client.aspx]Download TalesRunner[/play-now]
If it?s a formula racing you are looking for, Superstar Racing is the game to choose. This MMO racing game follows an updating Formula 1 Calendar, so the Grand Prix you find in the game will actually be the one going on in real life. Customize your character?s look for community interaction, and customize your car to stand out during a race. There are level and race limitations in the free to play model of the game, so you may end up wanting a VIP subscription if you want to constantly play and flourish. Friends can create teams and compete in on going tournaments throughout the season though. Your team?s earnings will contribute to improving the future efficiency of your formula 1 vehicle. The matchmaking in this MMORG is relies on a precise skill rating system based on players overall race performance. You won?t get mismatched so be ready to give it your all. The 2013 Grand Prix began in March and runs until November. If you want to feel like you are part of a real formula racing circuit, Superstar Racing is a rare MMO that provides it.
[play-now=http://www.superstarracing.net/]Play Superstar Racing[/play-now]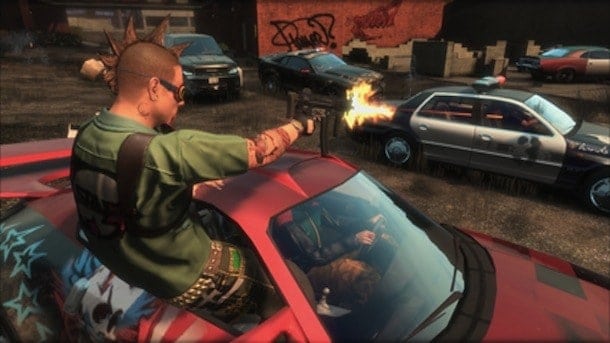 The creator of Grand Theft Auto sure knows a thing or two about high speed vehicle chases. APB: Reloaded is an MMOFPS that focuses on the dangerous competition of opposing forces, Criminals and Enforcers. The free to play MMO actually shares a lot in common with the famous Rockstar series, including how rewarding the driving experiences can be. Numerous fans of the GTA franchise play because of the many vehicles the series has to offer. Think about it. Majority of fans find the nearest vehicle they like commit the game?s title action within the first minute of actual playing. The difference in APB: Reloaded is that you can also bring those crime committers to justice. There is also a fantastic radio system supporting this online experience. Everyone can look forward to importing their own custom soundtrack into the game. This integration is so smooth that other players can even hear the songs coming from inside your passing vehicle. This obviously isn?t a typical racing game but players are trying to out-drive each other as fast as possible to reach individual goals; and what else is racing really?
[play-now=http://store.steampowered.com/app/113400/]Play APB: Reloaded[/play-now]
As the 15th installment of the Need for Speed franchise, you could assume EA knows what they?re doing; unless you know EA. Although Need for Speed World is based on the successful play style of NFS: Carbon and NFS: Most Wanted, this MMO falls short when it comes to online racing experiences. This MMORG is free to play but only until reaching a certain level. Reputation is what matters in this online community and you will probably find yourself diving into your wallet if you really want to excel. Unlocking the full potential of Need for Speed World does provide a great gaming experience for fans of the series. Overall this title fails at delivering real MMO aspects like elaborate customization and progression. Need for Speed World essentially eliminates one player mode and puts people into a giant lobby for matchmaking. This MMORG just doesn?t live up to the success of its predecessors. There are mixed complaints about this game, but it still has over 100 cars to enjoy and 20 million registered users. That?s more than enough to warrant giving this free-to-play title a test drive.
[play-now=http://traktum.com/?a=63495&c=131664&s1=]Play Need For Speed World[/play-now]
The gameplay made famous in the popular TrackMania Nations is about to get even better. TrackMania? is a trilogy of titles based on one of the most popular online racing games available. The actual game in the series we will focus on here is TrackMania?: Stadium. Released this May, the MMORG proved to be a success during its beta. The key to what makes TrackMania? so amazing is the customizable track builder. The track building concept has bloomed since TrackMania?: Canyon was released in February. TrackMania?: Stadium presents the exact same gameplay as Canyon, but in the famous Stadium setting that has was once enjoyed by millions of players in TrackMania Nations. The fast paced racing genre inspired by the Stadium environment has made it relevant in the eSports community for years. In this game players will have amazing control over the creative track building process. Now players can join an MMO community to share their unique skins, tracks, and even custom game modes with. The game even supports livestream video capabilities and competition management, making it primed for future eSports greatness. TrackMania?: Stadium may be a young pup compared to some of the big dog MMORGs out there, but it?s sure to be one heck of a game for both casual and hardcore gamers.
[play-now=http://www.maniaplanet.com/trackmania/stadium]Play TrackMania?[/play-now]
This MMO racing game is formerly known as Project Torque or Level-R if you are located overseas. Heat Online may have had different identities because of copyright issues, but the games are essentially the same. This 3D racing MMO is one of the more realistic games on our list as far as play style goes. There are no boosts, items, or weapons to be found, but don?t let that worry you. This title delivers some wonderful high speed action, both on and off the road; but be careful. This game has pinpoint realism and you will notice almost every ding your vehicle acquires during a race. You will be rewarded points depending on how well you avoid such perils too. Spend those reward points beefing up your ride for future races and you will be having fun in no time. An in-game chat function and friend list for players to form crews just solidifies why this is such a great MMORG.
[play-now=http://heatonline.com/index.php?option=com_content&view=article&id=50&Itemid=58]Play Heat Online[/play-now]
Some gamers actually don?t want realism in their racing games. Instead, some players just prefer super fast, adrenaline filled gameplay with easy controls. Drift City is a persistent world racing MMORPG with thousands of vehicle customizations.
Players will unlock dozens of cars as they work their way through hundreds of racing missions and nine tiers of vehicle progression. There is also an abundance of side quests provided to keep fans hooked and endlessly racing. Fans of the Burnout series will feel at home as they plow through scenery with minimal damage. If you really want to escape the congestive MMO streets and take on some more direct multiplayer action, Drift City has you covered there too with PvP racetracks called Battle Zones. The game is fairly balanced even with dedicated players have a leg up from better vehicles. Play time alone doesn?t guarantee victory though. Even beginners stand a chance with a slightly souped-up car. An open auction system puts the MMO icing on the cake in this racing title. Players are even able to price their own vehicles to help support buying their next high speed endeavor. The cell-shading animation and handful of positive reviews from dedicated and new players alike make Drift City a nearly perfect MMO racing option.
[play-now=http://driftcity.gamescampus.com/]Play Drift City[/play-now]
[play-now=http://mmoleet.com/exp]Play This Week's Top Free Games[/play-now]