Hey Attackers, we're happy to announce that Eudemons Online has reached out to us to help them with a giveaway they're currently running. They launched this giveaway to commemorate their newest expansion entitled: Goddess Awakening. With the giveaway, you will receive a Newbie Starter Pack containing a Golden Pegasus, a PP Card good for 2700 (their in-game currency) and a level 71 super weapon.

Event Rules:
Event Duration: May17th to June 16th (PST)
One gift per new created character.
Only for new players who have successfully registered during the event.
Steps To Redeem Your Gift
Step 1: Sign up for FREE on the Eudemons Event Page
Step 2: Download the game and create your new character.
Step 3: Open up your inventory to find the gift pack inside.

But before signing up you may want to know what kind of game Eudemons is. Well, we're here to help.
About Eudemons Online
Eudemons is a Free-To-Play fantasy MMORPG developed by TQ Digital. In its mythic world, you can choose to be a warrior, a mage, a paladin, a necromancer or a vampire. There are over 100 distinct Eudemons ready to assist you in your travels. Select and train them wisely to add extra power to your character, and use them to your advantage during the fierce battles you'll encounter. Eudemons is a game that has been around for a while now, since 2006, and it is still going strong. Take a look at this slick CGI trailer they put together for their last expansion, the Salvation of the Shadow.
So if you're into F2P MMOs then Eudemons is definitely worth checking out. You've got until April 16th to grab your Free Newbie Pack, so don't wait!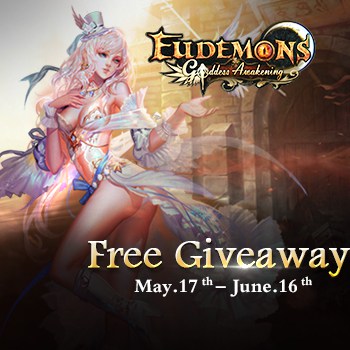 Win A Free Shirt!
We're also running a giveaway of our own–the awesome t-shirt kind. We have a bunch of great shirts available at our shop and at the end of June we'll be giving one away to a lucky fan.
You can enter the contest for a chance to win one of our shirts by logging in below. And you can also gain an extra entry to win by subscribing to our newsletter.